Letter from Governor Heineman
Governor Dave Heineman sent the Confucius Institute a letter of congratulations on celebrating its sixth anniversary. See Governor Heineman's letter here:

Daily Nebraskan Article about Chinese Corner-October 25, 2013

Chinese Corner offers opportunity to experience foreign language, culture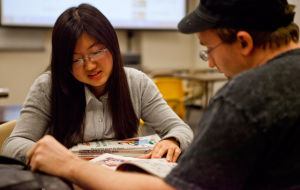 Chinese teacher, Jessie Guo, and Brian Kokesh explore the options of learning Chinese as a second language in Nebraska Hall on Wednesday. Chinese learners of all levels are welcome to attend meetings and expand their knowledge of Chinese language and culture.
Posted: Friday, October 25, 2013 1:00 am
Kaspars Maleckis frowned in concentration as he surveyed the dozens of flashcards spread out in front of him, trying to match key English phrases with their corresponding Chinese characters.
At the weekly meeting of Chinese Corner, Maleckis and other students learning Chinese meet with professors and fluent speakers to practice the language through conversation and creative activities. Director of Chinese Corner, Zhenquiao Yang, teaches Chinese in Lincoln public schools, and uses the group to provide a welcoming environment for students to learn about Chinese language and culture.
"In a normal class in America there few Chinese people," Yang said. "If you're learning Chinese, you may not have the environment to practice. So in order to increase the interest of students and provide more opportunities to use real life Chinese, we have this Chinese Corner for students to come and talk about anything they're interested in."
Students can receive personalized attention and seek help with whatever language questions they might have. Maleckis is an international doctoral student from Latvia studying biomedical engineering. English is already his second language, and learning Chinese has posed a unique set of a challenges.
"The hardest part is probably the characters," he said. "They don't use letters, so it's like I'm learning everything from zero. Other than that, it's not so bad. The grammar doesn't seem to be much of an issue."
Across the room, students Donal Ziegenbein and Yi Han sing the lyrics of a song, first in Chinese, then in English. Ziegenbein is a non-traditional student studying Chinese, while Yi Han is a freshman international student from Beijing, working to improve her English. For both students, engaging in dialogues in their second languages provides the opportunity to practice real world language skills, outside a traditional classroom setting.
"I call Chinese Corner 'the wild,'" Ziegenbein said. "In the classroom it's an artificial and laboratory type situation. Here I can listen and find out how tones actually work in real life situation and how the language works with body language and inflection."
Han came to Chinese Corner for the first time to help others communicate in her native language, as well as to practice English at a comfortable pace.
"I have reading, writing, speaking and usage classes in English," Han said. "Speaking is my favorite, but listening is the hardest part about learning English. Americans speak too fast. I have to think about it and then I realize too late."
Chinese Corner meets Wednesday nights in Nebraska Hall, and welcomes anyone interested in Chinese language and culture. Many students use Chinese Corner as a supplement to formal Chinese classes at UNL, but others have no prior experience in the language at all.
"Sometimes we meet students who know little Chinese, or maybe just 'Ni hao,' to say hello," said Bo Liu, a Chinese language instructor at UNL who assists at Chinese Corner. "We start to teaching them the language little by little.
Both Liu and Yang are representatives of the Confucius Institute, a program sponsored by the Chinese government which sends teachers to schools all over the world in need of Chinese language instructors. Chinese Corner was created nearly three years ago to recreate language learning techniques common in China.
"Back in China we have a lot of English Corners, in colleges and schools," Yang said. "When students are learning English, the teacher will hold activities every week. So from that we got the idea to have Chinese Corner here. But here everyone is welcome, from college students to middle schoolers."
The spirit of group is to allow Chinese language students the unique opportunity to immerse themselves in a different culture if only for a few hours.
"I taught Chinese in China to foreigners for years," said Yang. "When foreigners go to China to learn the language, it's much easier there. I see many American students learn oral Chinese very quickly, because they get to be a part of the language and culture."


Class Registration Fee Reduced!
If you have always wanted to take Chinese language, music, or culture classes now is the time to do it!
Since the UNL Confucius Institute started the classes of Chinese Language and Culture, it benefits many students, adults as well as children, with learning experiences. The instructors, specially trained in teaching language learners, use powerpoint presentations, activities, listening and speaking practice, and various other methods to help students build their language skills. Students of our classes have learned to communicate in Chinese, even to the extent of participating in Chinese Speech Competitions.
To carry out the mission of promoting and teaching Chinese language and culture, and to better serve our community, we are pleased to announce that our registration fees for the 2013 fall classes are reduced. The $150 fee for adult language classes is lowered to $90; $120 fee for child language classes is lowered to $60; and the $100 fee for the culture classes is lowered to $50. We have always worked hard to provide quality Chinese language and culture teaching to our students and now we are reducing class fees to make our classes more affordable to everyone who is interested in learning Chinese and its culture.


The following was posted on the Daily Nebraskan website about Associate Professor Pingan Huang's recent workshops
Pingan Huang, associate director of the University of Nebraska-Lincoln Confucius Institute, worked to break down barriers of culture and language Monday at an hour-long Chinese workshop in the Jackie Gaughan Multicultural Center. The workshop addressed challenges faculty and Chinese students face in the classroom.
"There are more and more Chinese students and scholars coming to UNL to study and to do research," Huang said. "But, presumably, many staff do not know much about China and Chinese people, so this workshop is to talk something about China and Chinese people so that the staff at UNL can interact better with Chinese students and scholars."
Among the challenges, Huang listed things like name pronunciation. He explained some sounds in Chinese are missing in English. In the second portion of the lunch-hour workshop, which will take place Wednesday, Huang will review 20 common Chinese phrases and sentences.
"I think language actually plays a very important role in daily interaction," Huang said. "Even with very basic phrases and sentences you can show your appreciation of the other people so you can set up a very good, friendly relationship with each other. Though you don't have to speak the whole language, one or two phrases can set up a very good relationship."
The workshop also touched on differences in education between the U.S. and China. Following the Chinese equivalent of high school, students take the National College Entrance Exam (NCEE) if they wish to pursue a college education. The exam is only offered once a year, placing a lot of pressure on students.
"The competition is very fierce compared to education in the States," Huang said.
Students who do not pass the NCEE may wait a year to try again. Many choose to attend college in another country.
The number of Chinese international students at UNL has doubled in the last three years, and Chinese students make up 40 percent of international students, Huang said, citing a Daily Nebraskan article.
About 20 UNL staff members attended Monday's portion of the workshop. Sara Sanchez, program coordinator at the Office of Academic Success and Intercultural Services, plans to apply what she learned to her work.
"It was very good to learn a little bit about the Chinese education system," she said. "I think if I come across advising some Chinese students at any point I'll have a better understanding of what their background is."
This week's workshop is the third Chinese workshop that Huang has led.
"Our plan is to do it every semester," he said. "I think as time goes on, I may change topics to other aspects of Chinese culture or Chinese history.
"The general goal is just to promote mutual understanding."
The second portion of the workshop will take place Wednesday at noon in room 202 in the Gaughan center. Space is limited to 50 people.
See the original article by following this link
http://www.dailynebraskan.com/news/article_a7bd5e60-06c9-11e2-88a3-0019bb30f31a.html.
The following was posted on the Adams Elementary School website. This is an elementary school in Lincoln.
During the first quarter of school, the students and staff of Adams Elementary School, 7401 Jacobs Creek Dr., welcomed two special teachers. Ms. Joanna Li and Ms. Rosemary Ma have been co-teaching with Adams' own Mrs. Pam Cassel, Mrs. Jodi DeRoos-Horalek in library and Mrs. Brenda Barnett in art. Mrs. Li and Mrs. Ma are visiting educators from China and are teaching with Lincoln Public Schools and the University of Nebraska – Lincoln as part of the Confucius Institute.
The University of Nebraska-Lincoln's Confucius Institute is a non-profit public institute with a mission of promoting and teaching Chinese language and culture in Lincoln and the state of Nebraska. The UNL Confucius Institute was established and dedicated in 2007 as the 20
th
Confucius Institute established world-wide by the Office of Chinese Language Council International, known as Hanban, a part of the Chinese Ministry of Education. Hanban aims to promote friendly relationships with other countries; enhance understanding of Chinese language and culture among world Chinese learners; and provide a good environment for learning.
Mrs. Ma taught the Adams second through fifth-grade students how to say "My name is.______" in Chinese. They also learned the Chinese words for greetings and colors.
The kindergarten and 1st grade students listened to a story and viewed videos about kindergarten in China. The Adams students compared their school experiences to those of the students in China.
Ms. Li taught students about Chinese calligraphy, Chinese paper-cutting and how to use bamboo brush and ink while working on rice paper.
---
---
The following article was published in the Daily Nebraskan about the first Chinese cooking class. Thank you to Jon Augustine and Kalee Holland for covering this event!
Dumpling cooking class unites community, teaches new skill
Posted: Monday, September 17, 2012 11:46 pm | Updated: 12:27 am, Tue Sep 18, 2012.
In a busy, loud kitchen, almost 30 Lincolnites rolled, cut, mushed, formed and filled Chinese dumpling wrappers Monday evening at a University of Nebraska-Lincoln cooking and culture class aimed at introducing Chinese tradition to the community.
Inside Leverton Hall, instructors detailed the origins, symbolism and meaning of the dumpling in Chinese culture, and then they set the cooks loose.
"The mission is to teach language and culture, and promote cultural exchange between the U.S. and China," said Rachel Zeng, executive associate director at UNL's Confucius Institute, which hosted the dumpling-making event.
Many of the participants came to the class seeking fun, while others sought Chinese culinary skills that could help them take part in Chinese tradition.
"Our daughter's Chinese, and we wanted to give her a proper Chinese New Year," Tish Fobben said. "It's really interesting."
Instructor Ping'an Huang, associate director at the institute, gave a brief overview of the dumpling-making process, which included four main steps: dough preparation, fillings preparation, wrapper-making and cooking.
From there, Huang explained there are three main ways of cooking dumplings: boiling in water, pan frying to make pot stickers and steam-cooking. Common fillings included various meats, eggplant, cabbage, carrot, celery, green onions and ginger, with various sauces for preferred tastes.
After the presentation, Zeng and an assistant made the meat and veggie fillings for the students, using pork for one half and beef for the other.
Then, the 20 dumpling students were instructed to wash their hands and begin forming the dough into the wrappers, made from a simple combination of bleached flour, water and salt. To create the wrappers, the dough was rolled into a coil and cut into small one-inch cubes, then flattened and rounded by hand and a rolling pin.
With the wrappers formed, the filling was added and neatly folded in half. Then, the dumplings were divided up and cooked. When the dumplings were fully cooked, the students were allowed a taste of their own handiwork.
Brian Sabatka and Susan Kruse, two of Selleck Quadrangle's own Food Service workers, also attended the dumplings class.
"We wanted to learn how to make (the dumplings) from scratch to maybe do them in the future for the Chinese New Year," Sabatka said.
Former Confucius Institute employee Joyce Young was also in attendance and said her desire to create the dumplings at home and share them with others brought her out.
The initial offer for the cooking class was 20 pre-paid and registered participants. However, another 12 people called after the class had been filled. Now, they're on a waiting list, and a second class may be in their futures, according to Zeng.